Manu Goswami is a 21-year-old two-time TEDx speaker (signed with Speakers' Spotlight and The AAT Project), venture capitalist (at JB Fitzgerald Venture Capital founded by NBA player Trevor Booker), LinkedIn Youth Editor (over 69K followers) UN Youth Ambassador and serial entrepreneur. After successfully building Technotronics, Manu is now the founder and CEO of Trufan, a new age media company building technology to help influencers, brands and agencies discover and reward their top fans.
He has previously acted as a consultant for Fortune 500 companies like Google, Western Union, and American Express. He also sits on various boards including Dunk and the League of Innovators. Manu has been published in more than 50 national and international publications and has been inducted into Plan Canada's Top 20 under 20, recognized as Startup Canada's Young Entrepreneur of the Year and won the United Nation's Outstanding Youth Leadership award.
Manu is the co-founder of six ventures – World Thinks, World Youth Fund, The Next Foundry, RafikiMedia, GenSys, and FoodShare. He is a resident of Vancouver, Canada.
We caught up with Manu during a break in his worldwide travels to ask him about his experiences and what he has learned.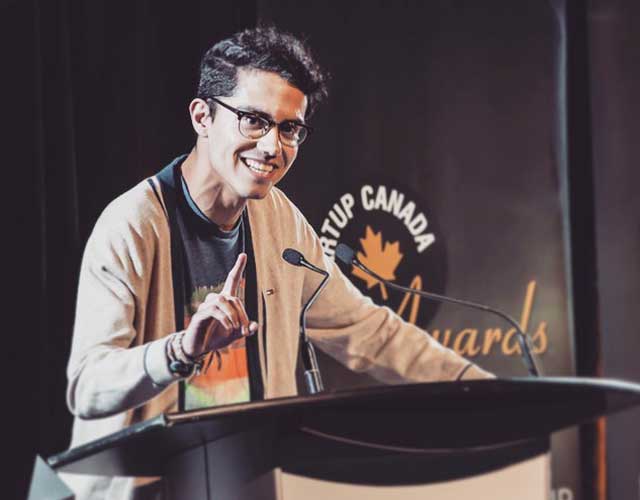 Q: You mention on your website that your first business venture was at age 7, when you filched flowers from a neighbor's garden and sold them. That business "was over as soon as it began," you wrote. Since you included that on your website, we gather that for you even unsuccessful business ventures have taught you something. What have you learned from unsuccessful business ventures?
A: I think with age comes the discipline of not knowing whether something is going to be successful but still working on it. I think it's so important to know that even if you're playing in a space that's not popular or does not have media attention focused on it, you can still be successful. And you can also be very unsuccessful if you're playing in a space that's very popular.
A lot of my friends are into blockchain or AI [artificial intelligence] or quantum computing and a lot of them don't even know what they're doing but they just like how big the market size is and how "on top" it is and that's why they built businesses around it. In my opinion, that's the wrong way to come up with an idea. Any idea that you have should be based on a problem that you or your friends are having because that way you're going to work even harder to solve it.
Q: I also thought it was interesting that when you were 10 years old you started a hovercraft business and you sold for $200. That must have been a princely sum for a child yet you gave it away way to an orphanage – why?
A: Early on, I wanted to do things that had a positive impact on other people. I didn't know what they meant but I did know that [the orphanage where he donated the money] had a lot of problems. So I realized that if I started giving money away I could create opportunities so people can start their own ventures and could come up with their own solutions to problems that they have. It's something that's not only good in terms of being able to create a positive impact but it's something that tied me to a legacy. Believe it or not, I was thinking about legacy at 10 or 11 years old.
Q: So philanthropy remains part of your motivation. You're not just trying to become fabulously wealthy – you're also trying to give away a lot of money.
A: 100 percent.
Q: Is it possible to quantify how much you've given way?
A: Yes – last year we started 76 early-stage startups, which is incredible. That would be about $150,000 given away…I think that's a great collective movement that we started and we're continuing to make it bigger and bigger.
Q: You call yourself as a "serial entrepreneur" – is it possible to describe an average day?
A: I don't have an average day but there are things I do every day – waking up obviously and checking email, checking social media, eating breakfast, taking all my internal meetings in the morning so I can take all my external meetings on the afternoon, which I really like doing. And then in the evening either hanging out my friends or taking a dinner meeting and going to bed at 11 or 12, sometimes even later if I have something to work on.
Q: You say on your website that it's really important to learn an entrepreneurial mindset at an early age – why do you say that?
A: We're all technically entrepreneurial when we're kids. We're all creative, we're all inquisitive about the world, we look at problems and come up with easy solutions. Around 13 or 14 we have that creativity is knocked out of us for different reasons – sometimes it's school, sometimes it's parents, sometimes it's society, sometimes it's friends. Or sometimes dreams change. They have a setback personally and it changes their entire trajectory in life. At the same time, I think that as much as possible even if you work 9 to 5 you can always come up with a solution and make that a business… I think every person can become an entrepreneur.
Q: What would you recommend entrepreneurs go into, what field – if you had to point them in any one direction, where would you point them?
A: Don't go into the popular fields just because the market size is big or because the media spotlight is on it. Make sure you're thinking about problems and solutions to what you know, what your friends know, what your network knows and, more importantly, to problems that actually affect you the most. Because if you're going to get up every morning and work on that idea, it better inspire you and it better motivate you to get up.
Q: Thanks much – appreciate your time.