Rising Innovator stopped by the Triangle Children's Business Fair today and, as we expected, found some young entrepreneurs with some pretty interesting businesses. Here are a few: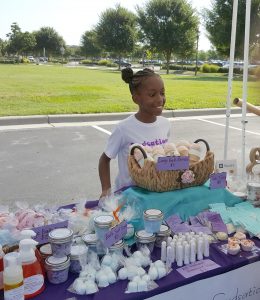 One piece of advice we often hear from experts is that the best way to come up with an idea for a business is to find a need and fill it. That was the approach of Sidney King, a 10-year-old resident of Raleigh, NC. Her products stem from personal needs – such as the All-Natural Headache Inhaler. Sniffing the inhalers' eucalyptus, lavender and frankincense scents relieves head pain, King said.
At least it works for her. "I made them because I used to have headaches in school and I didn't want to go to the principal's office to get pain reliever," Sydney explained.
Sydney's business, Sydsational, provides a variety of products that look cute and are designed to pamper and sooth. Her bath bombs look like ice cream cones but contain a concoction of ingredients that dissolve in bath water and produce a more relaxing bath. Her lotion bars look like little bars of soap but they are lotion to smooth the skin.
Sometimes filling a need means coming up with a cheaper product. "I really like stuff like but it cost a lot so I started making them myself," she explained.
*                                   *                               *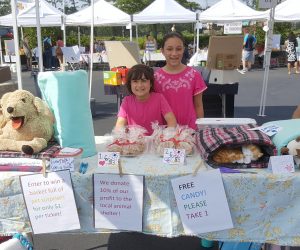 Sometimes the best ideas are found right at home. "I have a lot of pets and I like to spoil them a lot," said Gabrielle Diparro, explaining how she came up with the idea for Paw Prints. The business sells a variety of products that any pet would love, such as dog toys, a cat tunnel and pet beds.
Gabrielle, a 10-year-old resident of Cary, NC, runs the business with her 7-year-old sister Anabelle. These gals prove that even young entrepreneurs can make their own products. Explaining how they make the cat tunnels, which are what they sound like – colorful, playful tunnels that cats can run through – Gabrielle said: "We bought patterns and sewed them onto Velcro…"
"And we put foam inside," Anabelle added.
They started the business only a couple of months ago. Rising Innovator was proud to be their first customer. We are sure they are on their way to success.
*                                   *                               *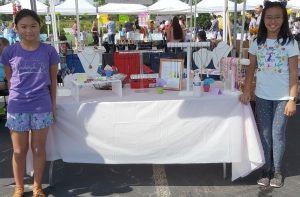 Olivia Li and Alison Lee seem like peas in a pod. The 11-year-old residents of Cary, NC, were friends before becoming business partners and they clearly get along and think alike. Answering questions about their business, Inspired Design, which sells a variety of necklaces and other accessories, they tend to finish each other's sentences.
"With our designs we look for things that are trending…," Olivia said.
"…very pretty and fascinating and eye-catching," Alison added.
Their designs are certainly unusual – for instance, a necklace with stars and moons, and another with flowers encased in resin. There was also a Harry Potter-themed series of necklaces, something bound to catch the attention of their fellow pre-teens.
The girls started the business about one year ago. They are working on creating a website.