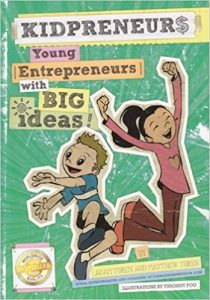 Adam Toren and Matthew Toren
Kidpreneurs was selected by "The Balance-Small Business" website as one of eight books for entepreneurs to read in 2019. It was named the best book for kids to read.
The blurb for the book states that it uses an "easy-to-understand basic principles and a creative approach." and that it contains "key techniques" to help understand entrepreneurship. The book has "kid-friendly design and illustration" and the authors promise that a child "can have fun as he or she learns." Among the skills the book aims to teach is creating decision-making skills by allowing kids to try out simple businesses.
The book was written by the Toren brothers, who started their first business at ages 7 and 8 and have been successful at a number of ventures including founding youngentrepreneurs.com.
See more book reviews and resources for young entrepreneurs on our Resources page.