Some entrepreneurs are successful because they take advantage of opportunities that are all around us but that others don't see. Thea Koch created a business from something that almost everyone has – in fact, you may be holding it in your hand right now.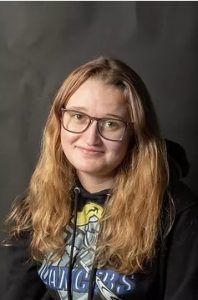 The 17-year-old high school student is a photographer. She explained how she got started: "My love for photography started when I was little. I would always take my mom's phone to take photos of everything we did."
Of course, seeing an opportunity is one thing; taking that opportunity and running with it is another thing. Thea explained how she launched her business: "I really kicked off my photography journey when I got a camera for my 12th birthday. From here I used resources to teach myself all about camera settings and how to be a photographer. When high school came around, I took advantage of project-based learning and used this time to practice and perfect my photography skills. From here it has grown into so much more!"
Thea is the owner of TK photography. She has succeeded by finding her niche. "My focus in owning a photography business is to celebrate high school seniors and to capture family and couple memories," she explained. "I see myself differently from other photographers in that my goal is to make my sessions affordable for families who can't always spend money on "extra" things like family or high school senior photos. I not only make my sessions affordable but I give my clients a full service shoot and fully edited photos."
TK Photography has become more successful this past year as Thea has become more comfortable with publicizing her business. She gets three to four clients a month – high school seniors, families, and couples. She also been hired for three events as an event photographer recently.
The biggest obstacle Thea has faced is not having time, she said. The main competition for her time is her school work, she said. "There's so much to be done as an owner of a photography business," she said. "But I always seem to find time after school, in the summer and on weekends."
And what has Thea learned? "I have learned that even when things get tough to not give up," she said. "Being a young entrepreneur is probably one of the hardest things to do as a teenager. There is always time, help and support for all. It took me a long time to find my groove and get off my feet and I'm definitely not on my feet all the way to my full potential, but as a 17-year-old still in school that's not possible. Find people who want to help, and make a difference in your life and business. Never give up!"
Also see our business idea article: Photographer for websites