How much creativity, innovation and entrepreneurial savvy can kids muster up? A whole lot, judging by the Triangle Children's Business Fair, which was held today in Morrisville, NC.
Rising Innovator stopped by to see what these kids had to offer. We. Were. Impressed.
Here are some of the young entrepreneurs we had a chance to chat with: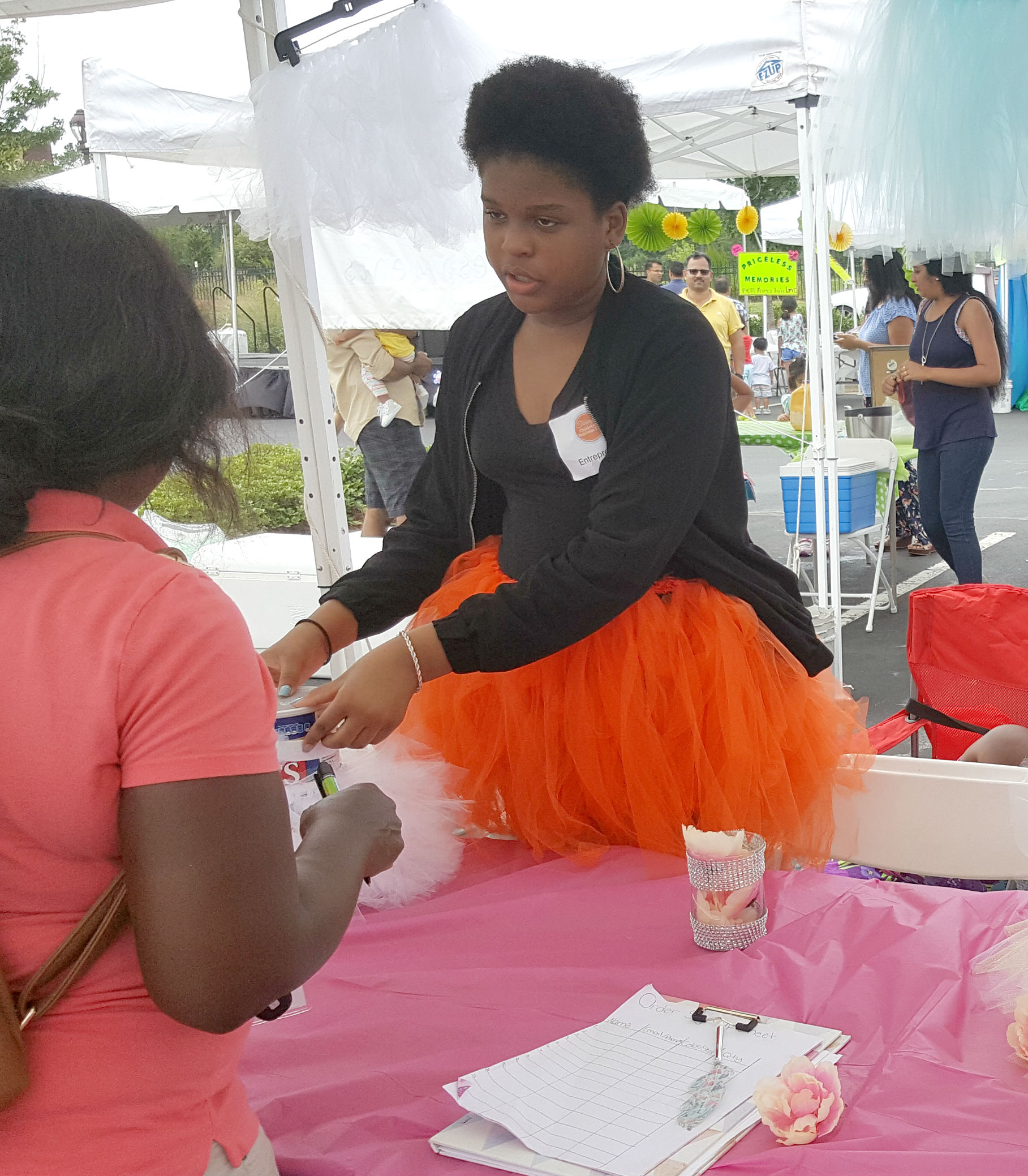 Essence Quander's little sister Rayvin was the inspiration for her business, Lil Bit's Tutu Shop.
The 11-year-old from Raleigh, NC, explained: "I made a tutu for my sister when she was 1, for her first birthday. It just kind of started from there."
Now Essence makes tutus and headbands that will guarantee instant adorability for any tyke. The tutus and headbands are made of elastic and tulle. Essence makes them herself and sells them on her Facebook business page.
Her mother Astrid says the business is doing pretty well.
"She has something different that a lot of people don't have."
*                            *                            *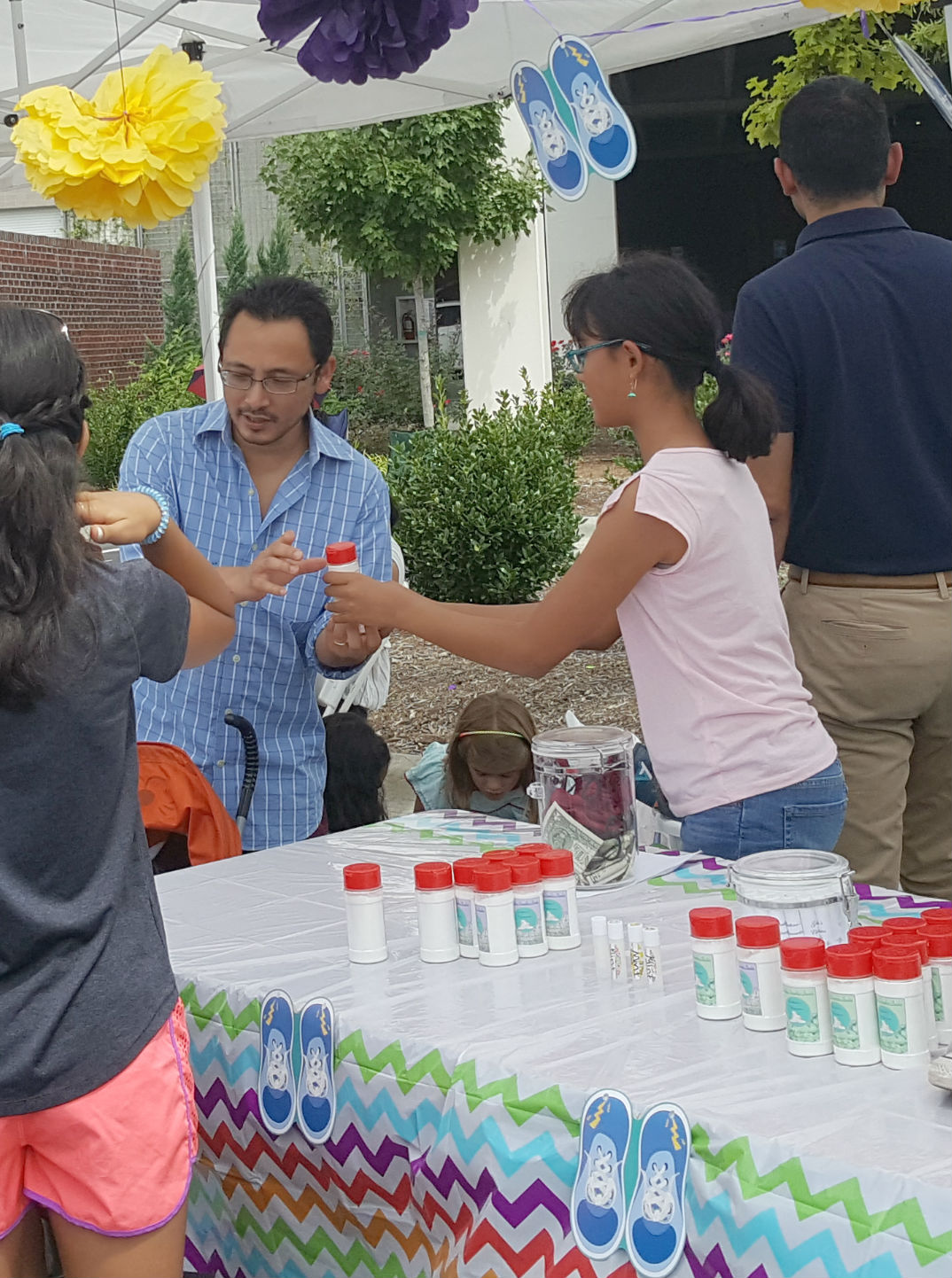 Grishma Shrestha had one of the more interesting inspirations for a business. "I play soccer soccer so my feet were stinky a lot," explained the 11-year-old Cary, NC, resident. She went on the internet to find a remedy and came up with a mixture of ingredients that made her gym shoes smell a lot better.
She was selling bottles full of the white powdery substance at the fair for her business CleanMetrics. Asked what was in the bottles, Grisham started to explain until her mother Shristi intervened.
"We'll just say it's food-grade ingredients," mom said.
"It's edible," Grishma added.
"Yeah," mom agreed, "but it doesn't taste good."
But it does smell good – apparently. The two varieties of fragrance she had sold fast at the fair. Grishma came with 48 bottles and with about a half hour still left in the fair she only had one left.
*                            *                            *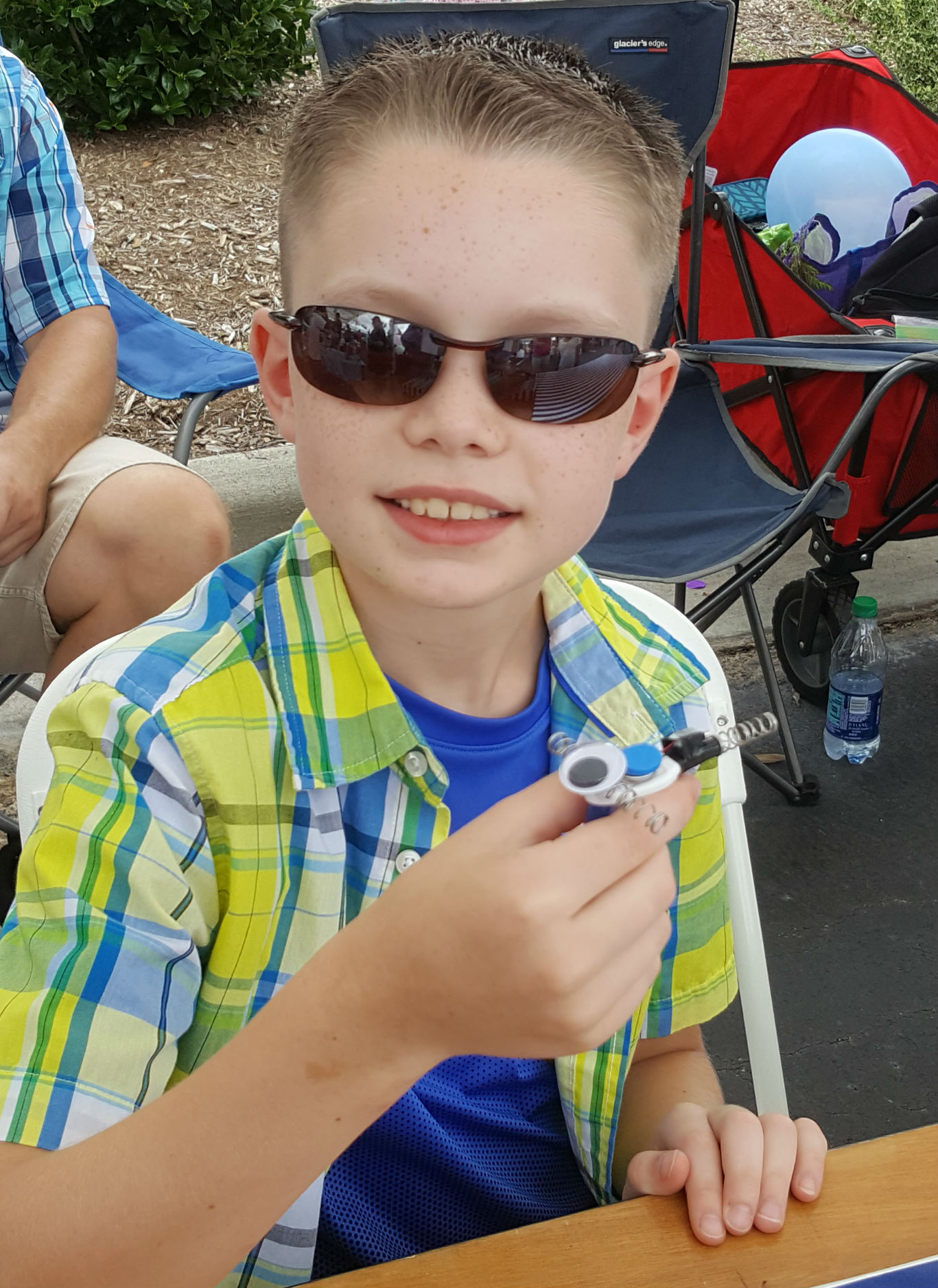 Gauge Brown is only 9 but he likes to tinker. He came across an idea in Make magazine to make a toy out of an old toothbrush and a business was born.
The Knightdale, NC, resident made one of the gadgets and he liked it,. If he liked it, he figured, others would, too. Bristle Critters was born.
Gauge did a brisk business at the fair, and his display was probably a big part of his success – Gauge had one of the battery-powered gadgets buzzing around a large display board in his booth.
It seemed like fun and, for only $3, was apparently too good to pass up. With about half hour left in the fair, he had sold 39 and had only one left.
By the way, each Bristle Critter takes him 10 minutes to make, Gauge said. We're no mathematicians, but it seems like this youngster is making a pretty good hourly wage.
*                            *                            *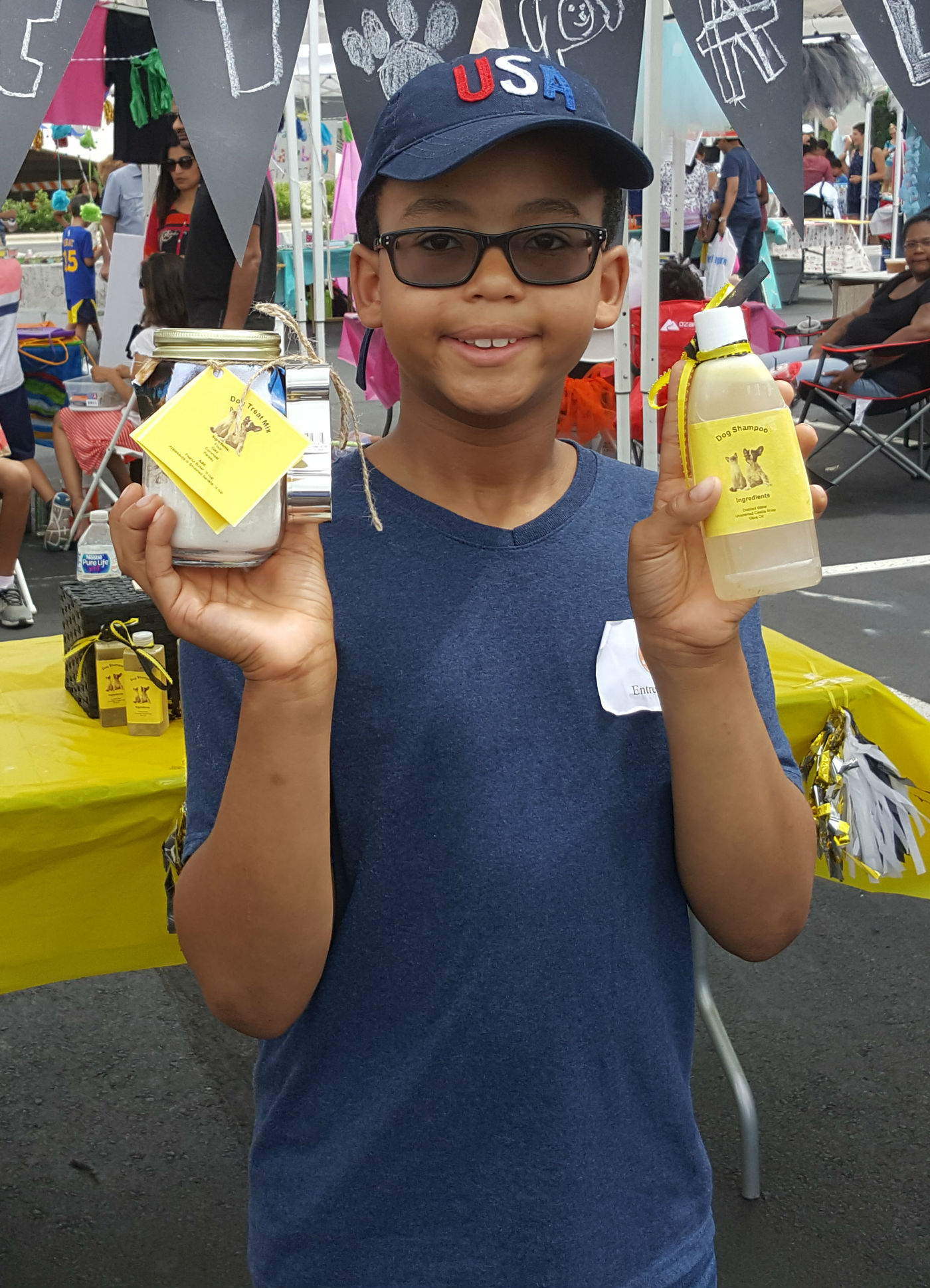 Mylen Strong's business, Pet Pals, was motivated by his love for his beagle, Jordy. "I've always liked pets," said the 9-year old entrepreneur from Apex, NC. Mylen came up with the idea for gourmet cat and dog food as well as dog treats and even dog toothpaste and dog shampoo.
Mylen, like many of the entrepreneurs at this fair, transformed information he culled from the internet and turned it into a business. He found the recipes from his products online, he said. One concoction for dogs, for example, consisted of turkey, peas and green beans. "It's all vet-approved," he said.
Asked how much he had sold at the fair, Mylen wasn't sure but opened up his cash box and pulled out a wad of bills, including several 20s. "Pretty good," he said, holding up the wad.
One day Mylen may be the person helping some young entrepreneur – he wants to be a veterinarian when he grows up.
*                            *                            *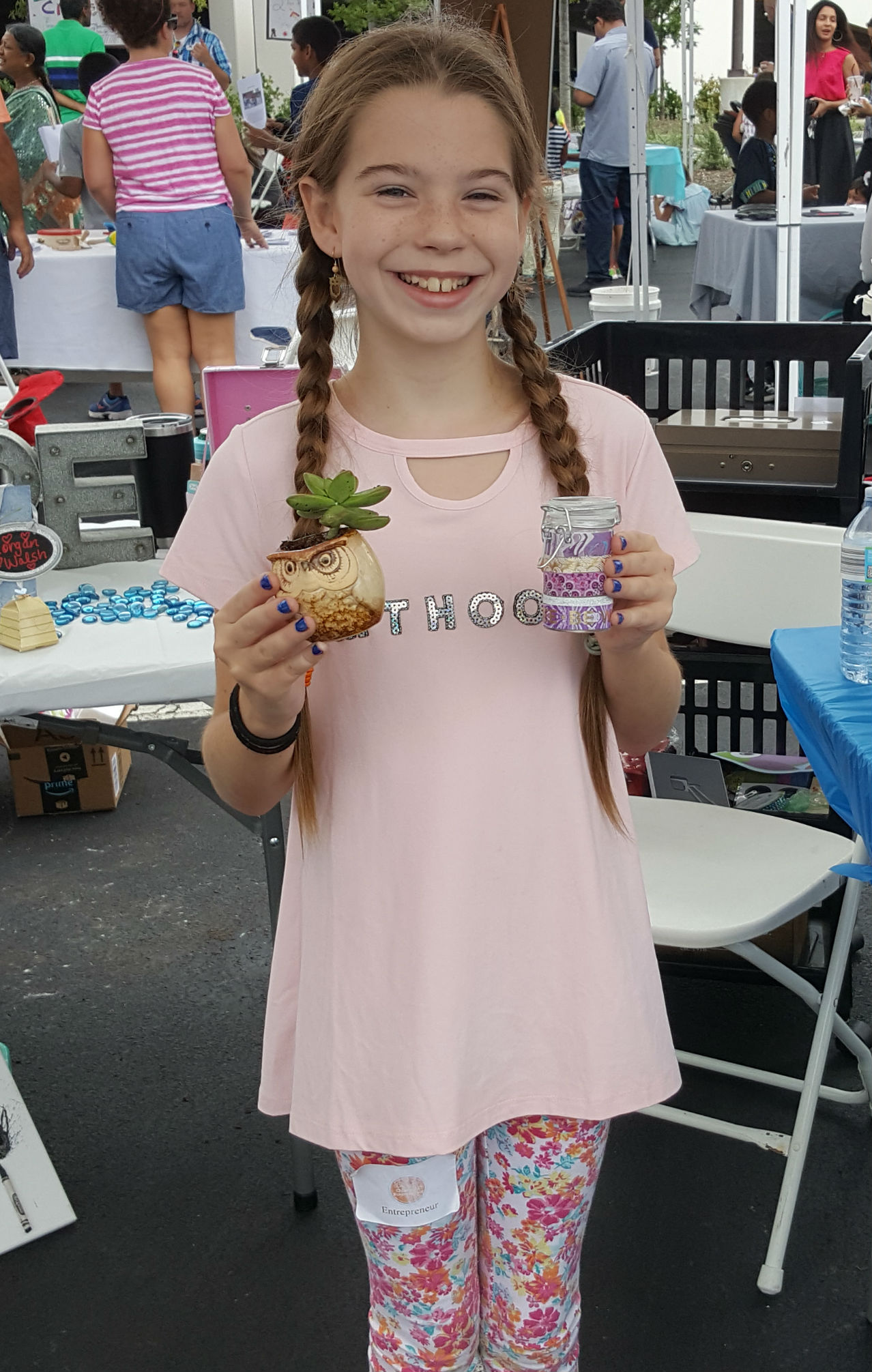 Morgan Taylor started her business during a period when her mother had an extended illness. "We were at home a lot and she had to find something to do at home," explained her mother, Sheri Spain.
Morgan was glad to show a visitor to her booth at the fair all the products she came up with: hand-made soap, hand-made slime kits, hand-decorated jars, potted succulent plants.
Morgan, who is 11, came up with some of the ideas from the internet but some the old-fashioned way. For instance, she learned to make soap from a kit she found while shopping at Barnes & Noble.
The kid seems to have a head for business, which is what she wants to do – Morgan said one day she wants to open up her own store.
One thing Morgan definitely has going for her is a good name for her business – MT Hootables. And she has a Facebook page for her wares.
NOTE: The photo at the top of the page is from a kids' business called Creative Arts. We did not have a chance to chat with them but the photo was too good to pass up!