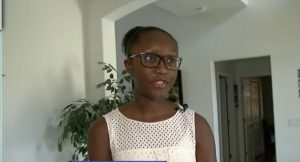 When Ailani Forde went to a craft store near her home in Tampa, Florida, she intended to find material for a fun craft project. She  rounded up some items to create and decorate her own style of flip flops.
Little did the 7-year-old resident of Tampa, Florida, know she was about to launch a business.
Her mother, proud of her daughter's finished product, posted the flip flops on Facebook and, by day's end, Ailani had 3 orders. By the end of 10 days, she had over 100 orders.
Ailani started taking custom orders as well, designing flip flops in colors and with accessories in accordance with her customer's desires.
This was just the beginning for Ailani. She received an invitation to go on the Harry Connick Jr. show and share her custom-designed flip flops, now known by her company's name "Fancy Flops".
Like all good businesses, Ailani did not stop at just flip flops, she expanded her products into T-shirts and headbands. She even started making colorful, duct tape wallets inspired by her own Duct Tape Wall Art in her bedroom. 
You might wonder what Ailani does with all her money now that she is madly successful?  Ailani designates some cash for her college fund and some cash for her own personal spending. She also donates some cash to an organization called "Camp Sunshine" a group that works with kids with life-threatening illnesses. A young lady who is not only smart but also compassionate!
This may not be all we ever come to hear about Ailani Forde however. She says she would like to become the first African-American woman Supreme Court Justice!
Ailani is living the expression, chasing your dreams! 
Hat tip to Ailani, who seems to have endless enthusiasm for her business and her future.
Keep your own passions ignited by reading more inspiring stories on Rising Innovator.