JeNoah Lee is a 16-year-old entrepreneur who co-founded URBAN Stereotype, a business based in Alliance, Ohio, with his dad.
Running a business can bring challenges. But JeNoah and his dad faced a different problem years ago. JeNoah was racially bullied when he was 10 years old by another boy.
"I felt really upset and eventually angry due to being bullied because of my skin color and race," JeNoah said. "My first thought was that it was minor but it got worse and lasted the entire year."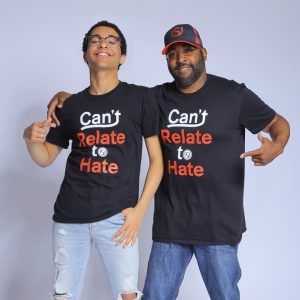 JeNoah's parents helped him deal with being bullied. He also used his interests to start a business that would encourage himself and others.
"What inspired me to want to help other people was my love for fashion," JeNoah said. "I originally wanted to focus on helping the urban community, those who were more subject to experience racial stereotyping and bullying. But eventually my idea got much broader and I started focusing on all ethnic groups. I wanted to help bridge the gap to the racial divide."
JeNoah and his dad, Ya'Hawkquah Lee, co-founded URBAN Stereotype in 2019. JeNoah started by selling clothes at local teen entrepreneurial marketplaces in northeastern Ohio.
The business has its own website as well as social media profiles on Facebook and Instagram.
URBAN Stereotype has sold hundreds of clothing items. JeNoah and his parents have also connected with local and national celebrities and advocates while building the URBAN Stereotype.
Former NFL player Josh Cribbs and his wife, Maria, bought some URBAN Stereotype shirts and wore the shirts on their local TV show, "Cribbs in the CLE."
Jane Elliott, a longtime diversity educator known for conducting her "Blue eyes/Brown eyes" exercise with various groups of people, also bought URBAN Stereotype clothing.
"It felt great to receive support from individuals with celebrity status and who are known worldwide," JeNoah said.
The Lee family has big plans for this year and beyond. JeNoah's working on designing new clothing collections for this business. He and his dad are exploring new ways to use URBAN Stereotype and it's logo, which spells the word "Us", to connect with more groups, businesses, and people who are committed to diversity and social change.
Beyond this year, JeNoah hopes to continue being an entrepreneur.
He's considering attending fashion school after graduating from high school. His other hopes for the future include becoming a philanthropist and traveling to different parts of the world.
JeNoah suggests other young entrepreneurs overcome their fears when starting a business.
"I would encourage them to get out of their comfort zones and start something, even if it's on a small scale," JeNoah said. "But I do recommend trying to be a little different with your idea. When I started my business I was extremely insecure and could barely speak with customers at events. But each small step makes it easier to continue so I would say go for it!"
Maybe you're inspired by JeNoah and his business URBAN Stereotype, which is a great example of social entrepreneurship. Check out our tips for becoming a social entrepreneur. You can also find more great business ideas for young entrepreneurs!