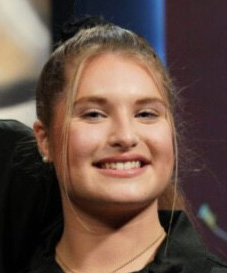 When Shirah Benarde was a 16-year old junior in high school, some of her friends in college told her about the horrible problem of drink spiking. Troubled by the stories, Shirah was determined to do something about it but wasn't sure what to do. One night, a solution came to her while dreaming.
Wasting no time the next morning, Shirah assembled a prototype using her mom's pantyhose and a scrunchie and showed it to her parents. Her mother and father immediately knew that her idea was something special. In a true family effort, her brother Michael, who had returned from college, joined the team. The project became his full-time job and, over the next six months, Shirah and Michael worked diligently to bring it to reality. They secured a graphic designer, developed the product and applied for a patent.
The Nightcap was born. The Nightcap is a reusable top you can place over a glass so no one can slip illicit substances into it.
According to Shirah, people also use the Nightcap to keep sand and bugs out of their drink at the beach and some customers have even told her they use it to stop cats from stealing sips when they're not looking. The company also sells environmentally friendly matching steel straws.
The siblings initially funded the company with an $18,000 investment from their parents and $12,000 they raised through an IndieGoGo crowdfunding campaign. They also entered various college pitch campaigns such as Florida State University's InNOLEvation Challenge, Tallahassee Startup Week's Annual Pitch Competition, FSU's Turkey Tank and FSU's Jim Moran Micro Grant. Collectively, Shirah, Michael and Nightcap have won about $15,000 from the various competitions.
In 2021, Shirah and Michael appeared on Shark Tank and presented Nightcap to the famous panel of investors.
"It was definitely one of the coolest things that I'll ever do," Shirah said. "Shark Tank is a show Michael and I used to watch all the time, and I remember always wanting to be on it."
Shark Lori Greiner was blown away by Nightcap and jumped on board, investing $60,000 for 25% of the company.
"I love this. I don't think that I have ever seen a product come into the Shark Tank that resonated more deeply in a social mission way as this," Greiner said. "I think this is genius… This needs to be in every woman's hands."
As of June 2021, over 70,000 Nightcaps have been sold. Shirah credits much of her success to a heavy presence on social media accounts like Instagram and TikTok.
Shirah is now a student at the University of Tampa majoring in entrepreneurship and part of the Spartan Accelerator program at the college. The program pairs entrepreneurial students with business experts to help grow their projects.
"It's really helpful to surround yourself with people who are trying to grow their businesses," Shirah explained. "You get a lot of access to different kinds of people you can always go to for help. Whenever I need help with something, I can always rely on them."
Available through the product website and retailers such as Amazon and Walmart, Nightcaps sell for $11.99 or a family pack of four for $39.99. There's also a larger 8-pack available for 79.99. Bulk orders are also available.
Shirah and Nightcap have already partnered with companies such as Grey Goose Vodka, Bacardi, Four Roses Bourbon and universities such as LSU, Florida State, University of Mississippi and more. Shirah has the goal of seeing the Nightcap in college bookstores, women's clothing stores, bars and clubs and various other retail locations. The brand can also be customized with logos and they are also planning to expand into customized styles.
Visit nightcapit.com for more information on the Nightcap.