Two Brothers Vending and ATM, based out of Charleston, SC, is a small business that installs, services and maintains vending and ATM machines. Rising Innovator found this business' story interesting because of the way it started. It is a family-owned business run by two brothers. Kerry Shipman is a recent law school graduate and started the business with his 16-year-old brother Koby because he was in bad shape financially. The brothers' experience shows that being in need of money can actually be a good thing for entrepreneurs.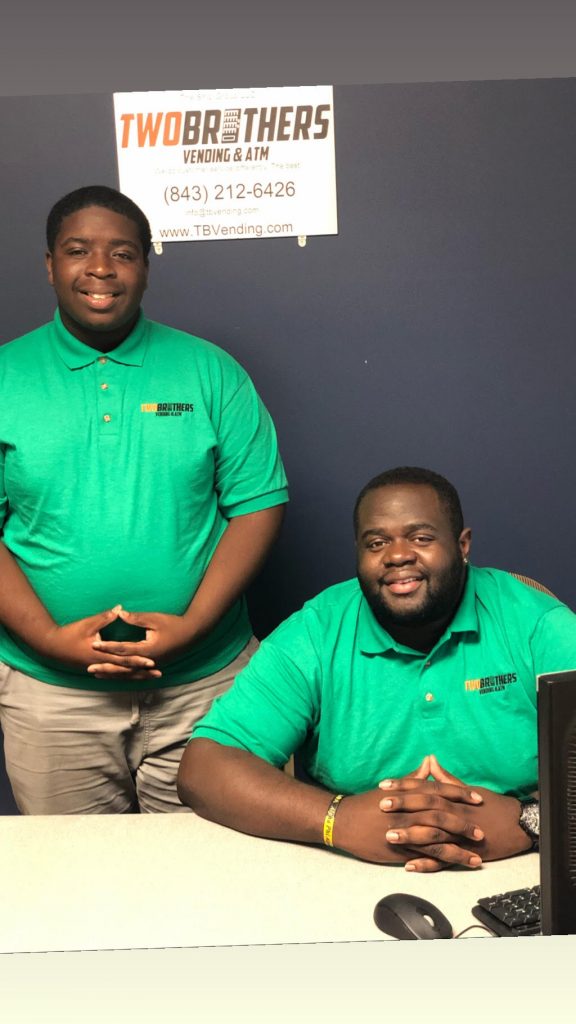 Q. Often, people start businesses because they need income – as the saying goes, "Necessity is the mother of invention." That seems to be the case with your business. Please explain the circumstances that lead to the creation of Two Brothers Vending and ATM.
A. After completion of law school, you begin the process of studying for the bar examination to become an attorney. During this timeframe your primary focus should only be studying to pass the bar. Graduating law students are advised to apply for a bar loan that will take care of financial expenses during your Bar Examination studies. I applied for a bar loan several times, including with co-signers, and I was denied each time.
I had no other [financial] options available. We already were facing financial constraints after the passing of our mother who had battled with stage 4 colon cancer. I had taken full guardianship of my younger brother and I am also co-parenting my son. I had to think of, "What's next?" because there were others depending on me as well. I have always had the mindset of "make it happen" even when your back is against the wall. So I took a chance and decided to start a business with my younger brother with the resources we had left.
Q. You say in your LinkedIn post that you had no experience in the vending machine industry – how did you end up choosing that industry to start a business?
A. I can honestly say that I am an innovative individual. One day while studying for a class at law school, I heard a fellow student complaining about the limited selections in the vending machine and how the machine was never fully stocked. I saw this as an opportunity to make a change that would benefit students and to start a business.
I had built a positive rapport with faculty and staff, so I inquired as to why the vending machines were never stocked. That conversation led me to think, "I can build a vending machine company that had the values of honesty, reliability and putting the customer first." I did my research and a thought became reality. The law school gave me a chance, which was the start of Two Brothers Vending and ATM LLC.
Q. You also say in your post that there were "many mistakes and closed doors." Tell us about some of the hurdles you had to overcome to establish the business, and how you overcame them.
A. The first hurdle was being able to perform and meet the customer needs. Our first few weeks were horrible. We didn't know what we were doing, and we received a number of complaints to the point we started second guessing ourselves.  The second hurdle was not knowing if my thought would become a reality and making sure my business would not fail in the first few months, losing the limited funds we had left.
The third I would say was making sure I stood true to the mission of the company I created. Many times, we jump into things not knowing if it will be successful or not and those fears hinder us. Being a young black man can bring negative perceptions due to your identity. I had to remember that my business can thrive in a society that is not always set up for certain people to succeed in.
Two Brothers Vending & ATM is competing with top- brand companies which can be terrifying, but I realized my company's worth. All of my hurdles, all of my closed doors have been building blocks leading me to success.
Q. Despite creating a business without much resources in an industry with which you were not familiar, you appear to be successful. How have you been able to succeed against the odds?
A. Matthew 21:22 comes to mind where it says, "And whatever you ask in prayer, you will receive, if you have faith". When we started this business, I did not imagine that we would make it to this mark. Even though it is only six months old, we have been blessed to have acquired government and private contracts, expanded to two other cities, secured an office location, attained certification as a Minority Business Enterprise – and to have done all this without receiving a business loan.
Being resilient and determined has been our driving force. My mother instilled in us the ethic to work hard and to never give up. We ensure that our clients and customers have the best customer service from us, and we listen to their needs and do our absolute best to fulfill them.
We are still learning and growing within this business, but we have a great support system and have built long lasting relationships that have opened those doors that were once closed and new opportunities for us.
Q. What advice would you give to young entrepreneurs who are just starting out?
A. Always remember that you can make your dreams, thoughts, and aspirations a reality. The impossible will be possible if you stay focused on the big picture and just take a chance. Success is failure that turned into a door that you did not know would open.
I always say if you cannot go through the door, enter through the side window; there is always a way to make it in. Be persistent, be kind, and always remain humble. Build those connections, take that chance, and make it happen!